I celebrate Easter Sunday for the same reason each year: He is risen! This joy never gets old. I cook a big celebratory dinner and gather with my family. We all meet up at my house, sit together at the table, and catch up. We share a meal together, breaking all of the social distancing rules that we're following today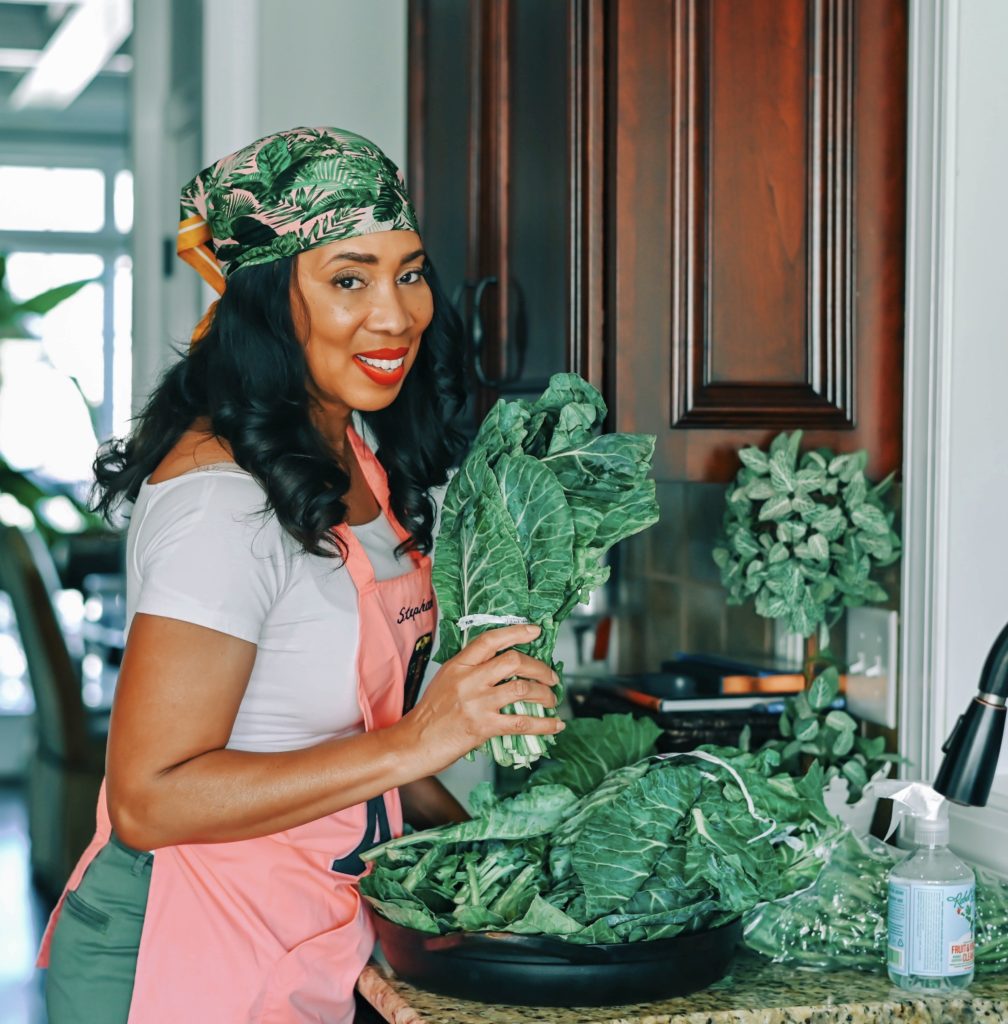 This year will look a bit different. For many people, spending any additional money right now is simply out of the question. This includes planning for an Easter Sunday meal. For others, their mask-covered trip to the grocery store may be focused only on purchasing necessities.
Planning to cook? You may need to make some adjustments. If you have a history of teaming up with a relative in the kitchen for their signature mac and cheese or collards, you might have to exchange cooking tips over FaceTime. If a certain grocery item is out of stock or difficult to find, choose an affordable yet delicious alternative.
You may not see Easter Sunday like I do, but I still hope you find a reason to celebrate. If you look at your family members and find them well, celebrate. If you choose to support a local business and pick up a meal for the evening, that's a reason to celebrate. If you've been feeling down but recently stepped outside for a breath of fresh air, celebrate. If you tackled another week of homeschooling your children, don't forget to celebrate.
I'm still cooking for Easter Sunday. I'll be preparing a roast, collards, rice and gravy, and mac and cheese. For dessert, we'll have brownies and ice cream. You've heard me talk a lot about keeping rhythms. Well, cooking is one of those things for me. It helps with maintaining a sense of normalcy in this very unique situation. Cooking a meal makes my family happy, too. What a feeling!
There are many things that feel uncertain right now. For me, my faith is one thing that has not changed. Even during this situation, let's not forget the meaning of Easter Sunday. I don't know what your current situation may be right now, but let's encourage each other to celebrate life.
Pot Roast
2 teaspoon olive oil
1 teaspoon sea salt
1/2 teaspoon cracked pepper
2 cups onions
1 cup wine (drink some too)
3 garlic gloves
1 can chicken broth
1 can beef broth
2 pounds potatoes
(carrots optional)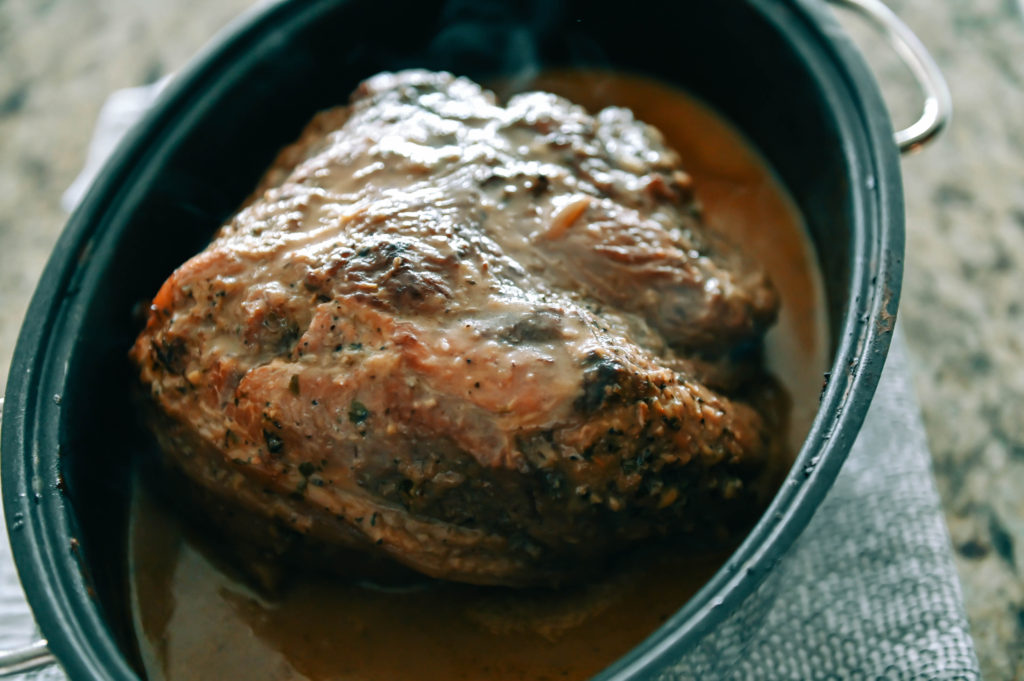 Instructions
Preheat oven to 350 degree
Heat olive oil over medium
Sprinkle salt & pepper on roast
Cook brown on all sides then remove from pan
Add onion cook until translucent
Add wine (drink wine)
Add Garlic, broth, cover and simmer for 1 1/2 hour when almost tender add potatoes cook for 1 hour or until tender
Serve and enjoy
Jalapeño Mac and Cheese
1 box elbow pasta
1 1/2 cups of milk
1 1/2cup of extra sharp cheddar cheese
1 cup of velvetta cheese
2 tbsp of flour
4 tbsp of butter
2cups of elbow noodles
1/2 teaspoon sea salt and
1/2 teaspoon cracked black pepper
2 Jalapenos, chopped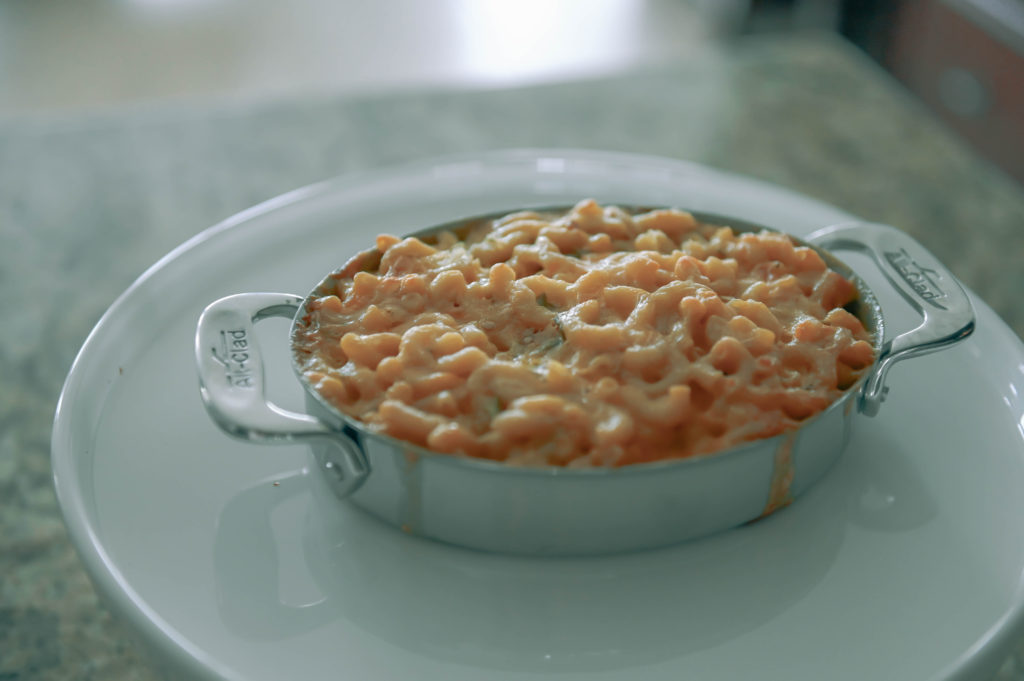 Instructions
Boil water in a pot
Cook macaroni per package instructions
Melt cheese, butter, combine flour milk stirring constantly over low heat cook until thickened
Preheat oven to 350 degrees
Combine all ingredients together
Bake for 25 to 30 minutes
Serve hot garnish with parsley, sliced jalapeños if desired
Notes:
For spicer Mac and cheese, leave the seeds in the jalapeño and add more jalapeño
Country Collards
2 bunches of fresh collard greens
2 ham hocks or smoked turkey
1/2 fat back
1 tablespoon oil
2 cups water
2 cans of chicken broth
1 teaspoon salt
1/2 teaspoon pepper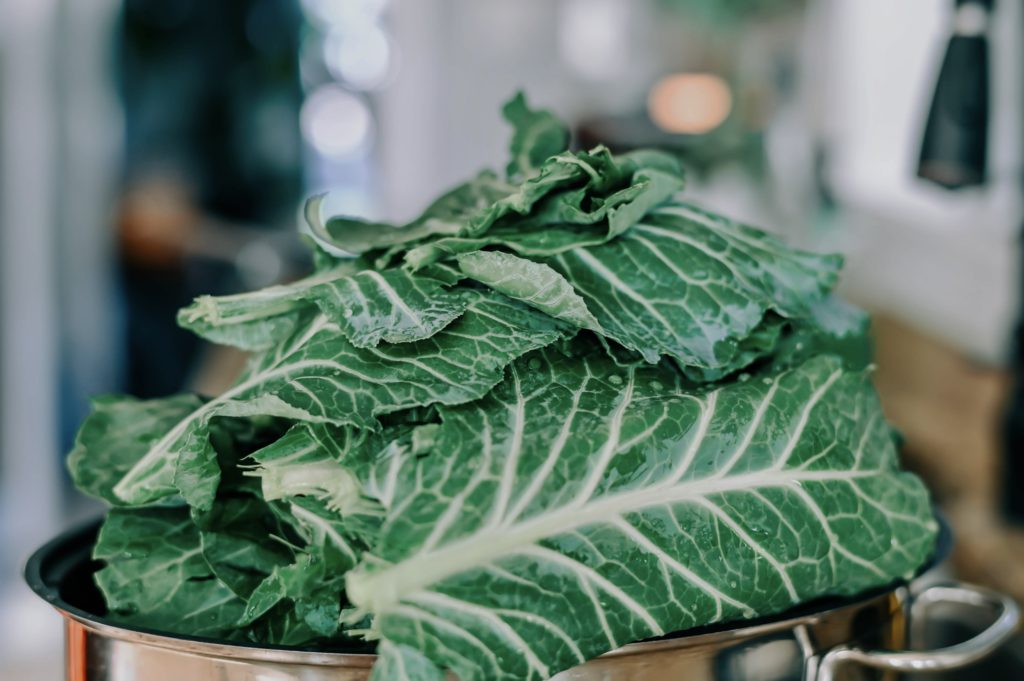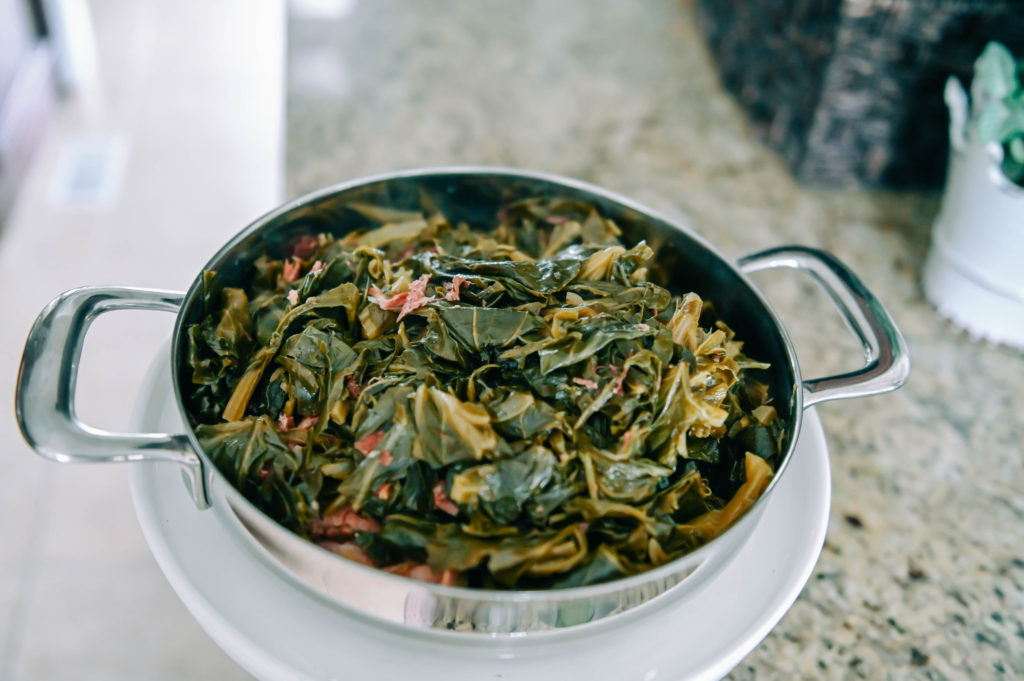 Instructions
Remove stems and discolored spots from greens. Wash greens thoroughly and drain. Cook fatback in hot oil over medium heat. Cook ham hocks in a Dutch oven over medium heat until tender – set aside
Bring water and broth to a boil over medium heat. Add a portion of the greens until wilted. Repeat with remaining greens: cover and cook stirring occasionally until collards are tender.
Serve hot.
Betty Crocker Salted Caramel Brownies
1 Box Brownie Mix
1/4 Cup Water
1/3 Cup Vegetable Oil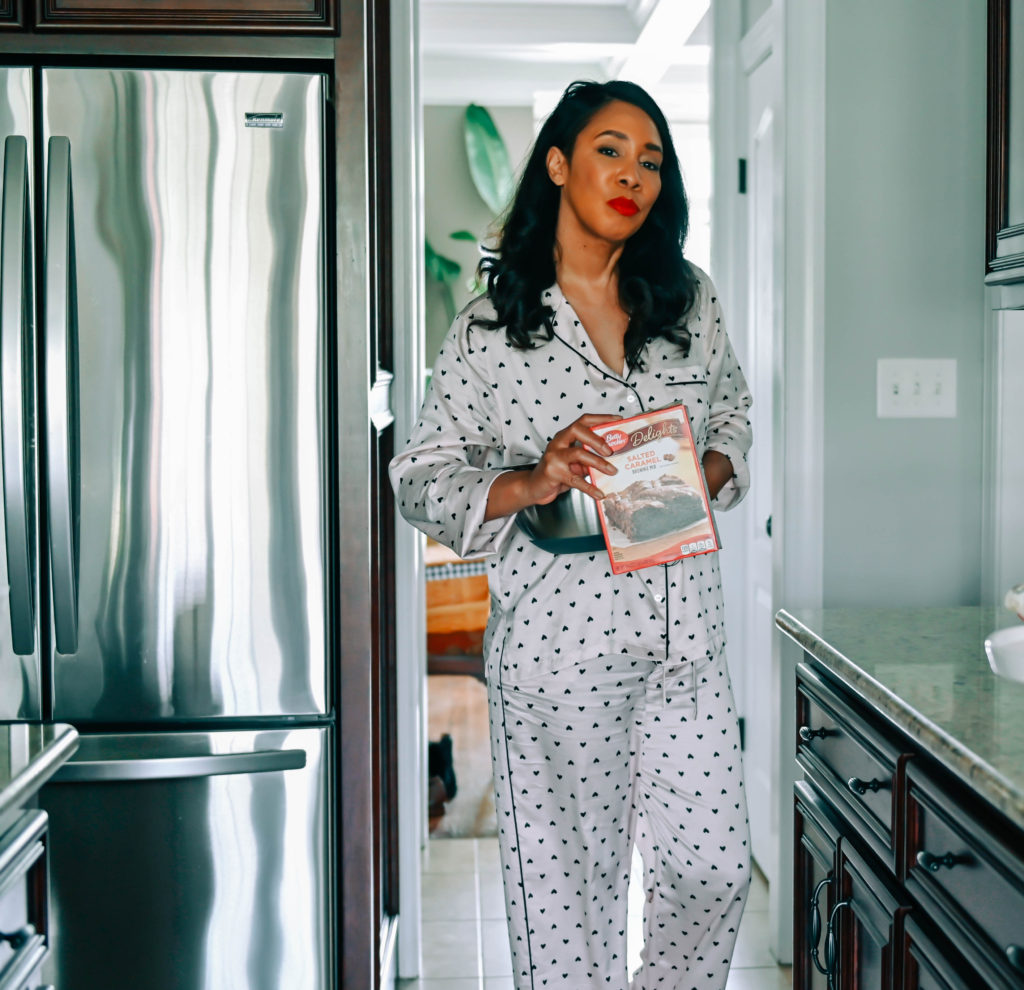 1 Egg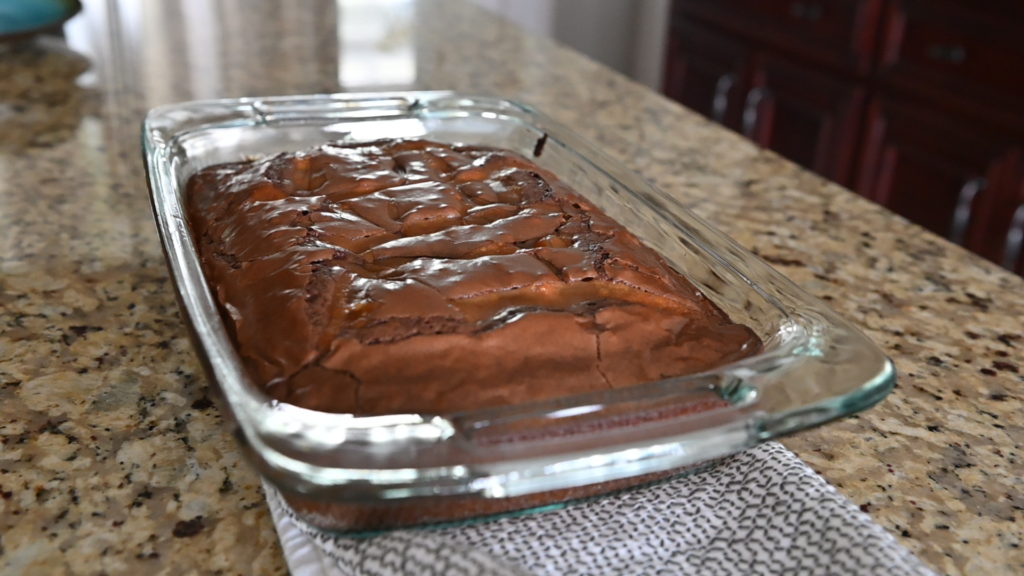 Instructions
Heat oven to 350 degrees (shiny metal or glass pan) 325 degrees for nonstick pan. Grease bottom of pan.
Stir Brownie Mix, water, oil and egg in a medium brown until well blended. Spread in pan.
Squeeze Caramel Pouch until softened
Cut 1/4 inch tip from a corner of the pouch. Squeeze caramel lengthwise onto batter in 4 straight lines, alternating the direction.
Bake as directed in chart on box or until toothpick inserted 2 inches from side of pan comes out almost clean; cool.