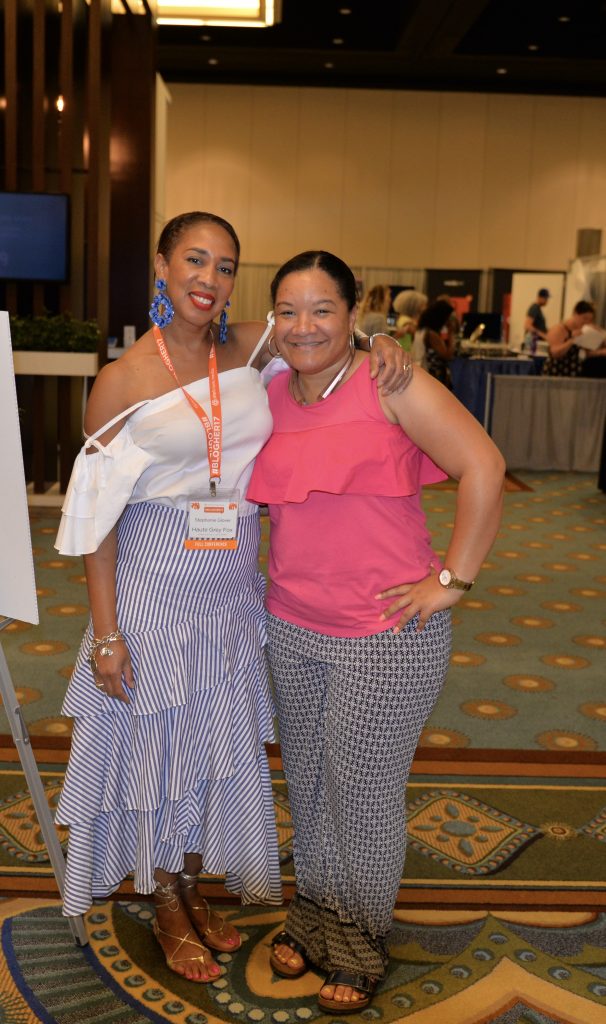 I love beautiful things. But there's one more thing that gets me even more excited — connecting with the beautiful minds of authentic people. If you missed my last post, I began detailing my experience at BlogHer17 in Orlando, which was a time I will never forget.
In addition to hearing from amazing speakers (read more in last week's post), I had a chance to meet some of the speakers outside of the conference sessions. These people (celebrities to me) were so approachable and open to sharing their story and their knowledge. We live in such a fast-paced world that it's sometimes difficult to connect beyond a superficial level.  Authentic, transparent people are beautiful souls, and I feel incredibly blessed when I am able to connect with them.
I had the pleasure of connecting with three people at BlogHer17, and they left a lasting impact. Crystal Colon was one of those people.
Crystal, the manager of Flor Bella Boutique, very skillfully spoke about maximizing blogging income and the variety of tax issues for blogging businesses.  This session was packed with wonderful information. She was so helpful in sharing how to maximize income and minimize taxes. I listened intently and learned so much useful information that I did not want to leave when the session came to a close.
Later during the day, I headed to one of the six restaurants located at Bonnet Creek and immediately saw Crystal sitting at the head of a table while other bloggers listened intently. I was so intrigued that I stopped to capture a picture.  I found myself curious about what they were discussing because Crystal had their attention, but I quickly moved throughout the room to mingle and capture pictures.
While exploring the vendor room the next day, I noticed Crystal sitting alone. This was my opportunity! I walked over and shared how knowledgeable she was and how happy I was with the content. She paused and thanked me. For the next forty minutes or so, the conversation morphed into sharing personal stories and ideas about future blog conferences.  I asked if she considered sharing her personal story of resilience, triumph and courage. There is no doubt that she is the best at what she does, but she has another amazing gift and story that could ignite so many people dealing with similar struggles.
I started blogging a little more than a year ago, but I recently became more serious. Since then, brands began to approach me with plans for collaboration.  I knew collaborations were possible, but I didn't know enough about the ins and outs of the business to see if it was something that I would be interested in pursuing.
Attending the BlogHer17 brought answers to the many questions I had about collaborations and other blogging topics. In fact, for the majority of sessions, I was dual-slotted to attend two during the same time frame because I could not decide which session to attend. That is how good the topics were at this conference!
With social media, where everything is glossy and beautiful, we often forget the value in connecting with people face-to-face, learning more about their journey, and not being afraid to share our personal walk.
Haute Grey Foxes Suggestion: It takes personal sacrifice, courage and work to accomplish great things. Meeting Crystal Colon was a beautiful reminder. How will you be courageous today?