I'm checking in again. The holidays are right around the corner, and things will certainly be different this year. I know we're ready to gather, but continue to wear your masks and wisely navigate during these next months.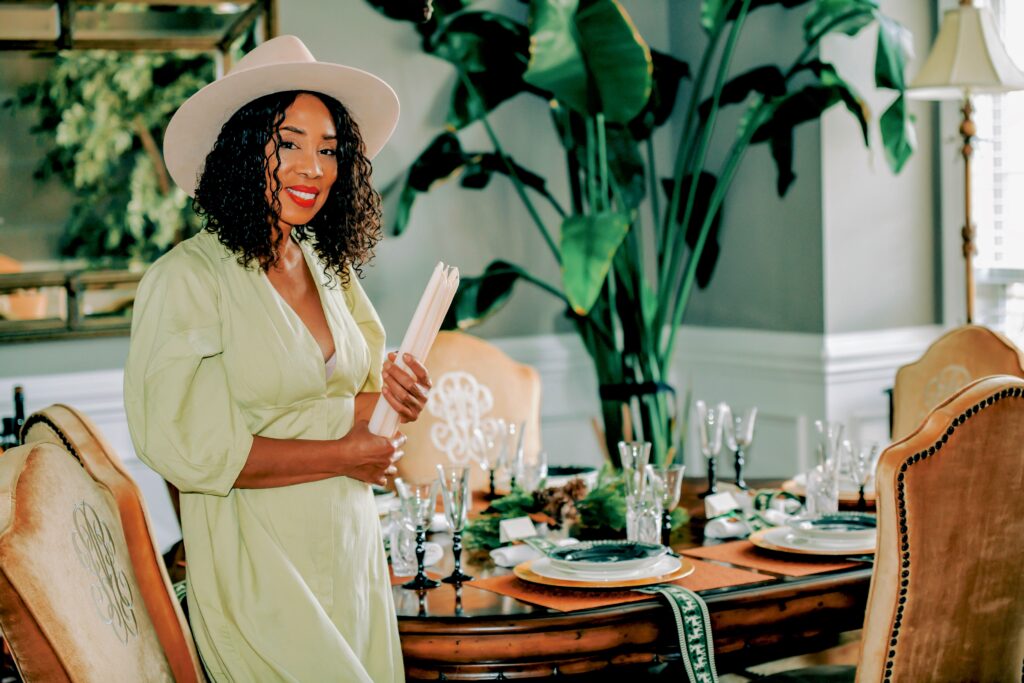 Traditions may look a bit different this year, but here's one thing that won't change: Thanksgiving is the kick-off event for the holidays. For me, it starts with setting my table.
Here's something else that's going to be different: My girls Tameika McPhaul (@msmeikostyle) Cynthia Lawson (@2chicdesigns) and Eugenia Hargrove (@theeageofgrace) are joining me virtually to create a beautiful holiday spread for my dining room. We're using a combination of pieces old and new. I'm so grateful to have connected with real friends on the 'gram.
Here are the main highlights:
Christmas-themed reindeer plates
Cloth napkins wrapped with twine and cinnamon sticks
Beige candles surrounded by greenery
Crystal pieces collected from around the world
Gold chargers to complement my bar cart (stay posted for that blog)
Gold utensils
Use what you have, ladies. Store your items well, and use them again next year with a different twist. Here are some other ways to make the holidays special:
Host a virtual event
I know that we're tired of seeing screens, but make technology work for you this season. Power up the stove — and your phones, laptops, or tablets. Schedule a time to cook your favorite dishes with family and friends through a video call. You can also set a time to connect for other traditions.
Dress the part
It's the holidays! Even if no one is coming over, or if you have plans to stay in the house — don't skip these special days. It has been an unprecedented year. Put on leisurewear, or kick it up a notch. Please enjoy this season in a healthy, happy way.
Call a friend
This season is going to be tough for many people. While some have had a chance to visit friends and family during the pandemic, others may not have had the opportunity. I know that many people were planning on big reunions this holiday season. Call someone to share that you love and miss them.
Stay safe and stay well, Haute Grey Foxes.