Well, I officially returned to the office. My transition from remote work doesn't keep me from wanting to make my place even cozier, though. If I learned anything from nearly a year at home — it was enjoying my space and being comfy while home. From redesigning my built-ins to enjoying my PJ selection, I'm enjoying the personal details that make me feel happy at home. My PJs are from Print Fresh, and they're soft, hand-crafted pajamas with bold prints.
Now, to these built-ins.
I'm feeling blue these days. More specifically, I'm loving blue and white chinoiserie décor. The value is that you can purchase these items at different stores, from HomeGoods to Williams Sonoma, and they flow together flawlessly. My built-in additions are also from a local small business here in Fayetteville, NC. Betty Kelly's Gift Shop is a fourth-generation fine gifts boutique, and I just love their quality — and customer service. They ship, too, so share some love with this small business. This isn't a sponsored post, but I know that every purchase counts.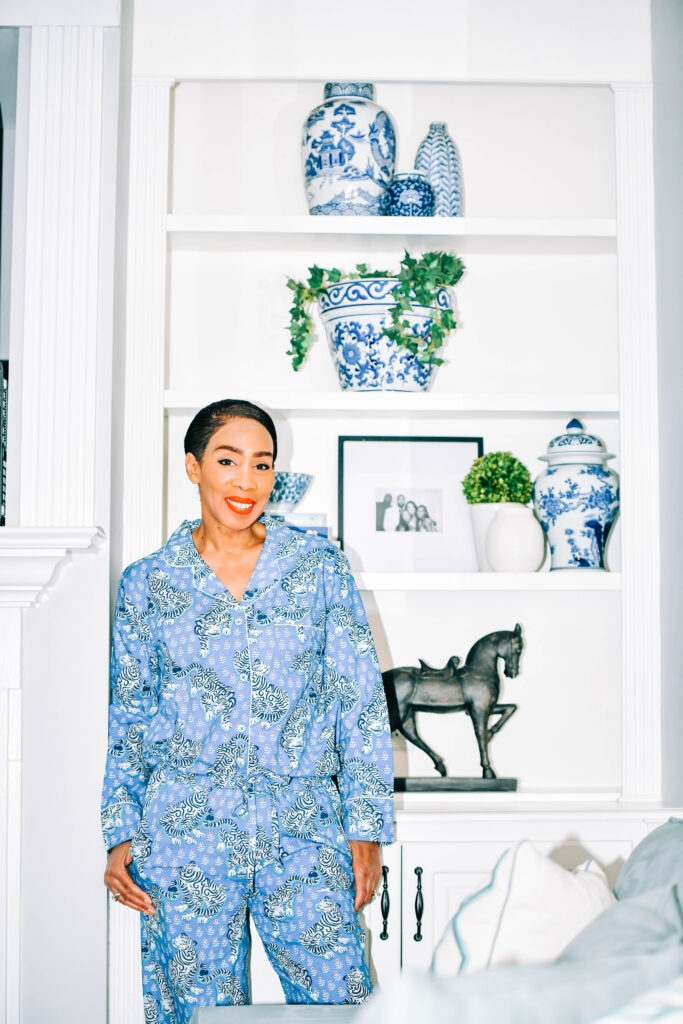 Here are tips that guided my design for built-ins:
Something old, something new
If you've been journeying with me for a while, you're used to me sharing the value of starting with what you have — and affordably adding a new twist. For my built-ins, I started with items that I loved. These include picture frames with special images. For something new, I started shopping when I realized I wanted to add a touch of spring with blue and white.
Something tall, something short
Varying heights create an unpredictable look for your built-ins. What I love about built-ins is that the design is really customized for each home. Feel free to loosen up. Everything doesn't have to be perfect — or even the same color. Enjoy your design freedom to switch up the shapes and sizes of pieces you choose to include.
Something comes, something goes
Your built-ins will change — and that's the beauty of it all. Add something new and place other pieces in other parts of your home. When we're able to travel again, I can think of a few pieces that I'd love to bring back for my built-ins.
From built-ins to stand-alone bookshelves, what's your vision?